News & Blog
2019-08-20
Nuus van die Marloth Park Belastingbetalers Verening
Ons het die volgende brief van MPRA ontvang:
DIE MYN BEDREIGING:

Ons het al die volgende gedoen:
Ons het Richard Spoor as ons prokureur aangestel (mnr. Richard Spoor het 'n ongelooflike prestasie rakende die wen van gevegte teen mynbouondernemings) en hy het regstappe teen die mynmaatskappy, die departement van minerale bronne (DMR) en die myn se konsultante Singo Consultancy geneem. Mnr. Jan Engelbrecht in Komatipoort is gekies as ons skakelprokureur.
Ons het Afriforum, SAAI, Sanparks, MTPA, die KLCBT, Ngwenya Lodge (wat R50 000 aan ons regsfonds geskenk het), Mjejane, die Waterraad, IUCMA, die Besproeiingsraad, spesialiste op alle terreine om die talle assesseringsverslae te ontleed, die naburige boere, die skaduminister van toerisme in die parlement, sowel as die Nasionale Raad van Provinsies, die Federasie vir 'n Volhoubare Omgewing (FSE), en ek weet dat ek sekerlik 'n paar meer vergeet ………...
Media - Carte Blanche het die mynbedreiging Sondag die 18de op MNET Kanaal 101 om 19:00 uit gesaai en dit sal ook weer hierdie Donderdag 22ste weer uit gesaai word en julle kan dit op DSTV Catchup sien (ek het 3 dae saam met hulle deurgebring), SABC 2 Fokus sal die mynbedreiging hierdie Sondag die 25ste op Kanaal 192 om 18:00 uitsaai (ek was 'n hele week saam met hulle). Al die koerante het namens ons geskryf oor die mynbedreiging, waaronder die Citizen, die Star, die Beeld, die Maverick, die Maroela Media, die Laevelder, die Corridor, om 'n paar te noem, met baie koerante wat die tweede en derde artikels doen. Daar was ook al berigte in tydskrifte soos die "Getaway". Jacaranda FM, RSG en Pretoria FM het ook radioonderhoude gevoer met myself (MPRA) of Afriforum, of albei, met baie meer radio-onderhoude wat nog opgestel word.
Beide Afriforum en ek (MPRA) het 'n kriminele saak teen Singo Consultancy vir bedrog gemaak (mnr. Kenneth Singo het nie 'n doktorsgraad nie en is ook nie geregistreer as 'n EAP (Environmental Assessment Practioner) soos in al die verslae uiteengesit is nie), vir plagiaat (hulle het studies en assesserings van ander mynstudies en assesseringsverslae van mynboubedrywe kilometers ver in ander gebiede gekopieër en in die verslae van die Manzolwandle-mynmaatskappy geplak. Dit is onwettig, dit nie 'n ware studie van ons omgewing, rivier ens. is nie)
Marloth Park Belastingbetalersvereniging (MPRA) se volgende stap is om ook Singo Consultancy aan die DMR en alle organisasies rapporteer waaraan mnr. Singo verbonde is.
Mnr. Kenneth Singo het my die 15de Aug laat weet dat Singo Consultancy onttrek vanaf die myn aansoek, maar ons gaan nie die kriminele sake terug trek nie.
Dit het nou meer as ooit noodsaaklik geword dat eiendomsbesitters saamstaan ??en saam werk vir die voordeel en verbetering van Marloth Park, deur hande te vat en een van die 2 organisasies te ondersteun. Ek het ons lidmaatskapvorm aangeheg. Die aansluitingsfooi is slegs R300 per jaar, en pensioenarisse of enigiemand anders wat nie die jaarlikse ledegeld kan bekostig nie, is steeds welkom om lid te word deur die "Ek benodig 'n borg" blokkie te merk, en iemand sal jou lidmaatskap borg. Soos ons almal weet, kan 'n mens nie veel met R300 per jaar doen nie veral met al die regskoste ens, so as u meer as R300 per jaar wil betaal of iemand borg, is u welkom. Onthou asseblief dat lidmaatskap op 'n vrywillige basis is en nie verpligtend is nie, maar beslis tot u voordeel as eienaar.
Hoekom is dit belangrik om lid te word:
Ons hou u op hoogte van alle gebeure, dreigemente (soos voorgestelde myn) en uitdagings, soos dit opduik, deur middel van 'n nuusbrief, sosiale media, vergaderings en notules.
Ons baklei teen al hierdie bedreigings, en vir u regte en kommer, namens u.
Hoe meer eiendomseienaars ons as lede het, hoe ernstiger sal sulke bedreigings ons as n gemeenskap neem; die munisipaliteit sal ons ook ernstiger opneem as ons getalle en 'n verenigde front toon as eiendomseienaars ten opsigte van dienslewering wat hulle ernstig ontbreek. (Ons spandeer ure in vergaderings met die verskillende direkteure, munisipale bestuurder en burgemeester ten opsigte van beter dienslewering).
U, die eienaar kry die geleentheid om u besorgdheid aan te spreek. Ons is jou organisasie, ons is jou stem.
Die jaarlikse ledegeld word slegs vir die voordeel van Marloth Park gebruik, en gelde lê nie in ons bankrekening waar dit Marloth Park geen goed doen nie.
As ek as voorsitter of enige van ons komiteelede nie tot u bevrediging optree nie, kan ons uitgestem word en u kies u nuwe komitee om u en u belange te verteenwoordig deur 'n spesiale vergadering te hou of by ons algemene jaarvergadering ( AJV).
Verenigd sal ons wen, verdeelt sal ons val.
Hiermee is ons bankbesonderhede as u graag wil bydra as n lid en/of ons regstryd (gebruik asseblief MYN EN u ERF NOMMER as u verwysing):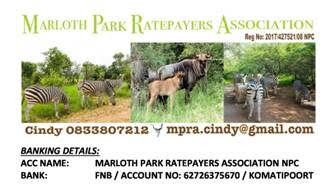 Kind regards / Vriendelike groete.
Cindy Benson (Voorsitter van die Marloth Park Ratepayers Association – MPRA)