News & Media
2018-11-02
Lightning and protection tips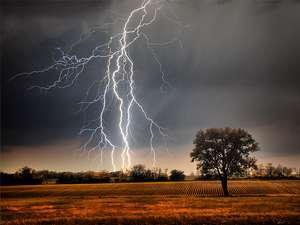 Marloth Park is based in a sub-tropical area and is surrounded by large mature trees, long/dry grass, houses with thatch roofs and is very vulnerable for lightning strikes. Lighting damage is also the most underestimated natural disasters in South Africa.
When lightning strikes, thatch roofs can catch fire or a surge of electricity can be sent through the electrical wires in a home which can cause damage to all electrical equipment/devices. Electrical garage doors, pool pumps/heaters and security systems can also be affected by lightning.
Most insurers have certain requirements as an additional requirement of the policy ie. Installation of lightning protectors and surge units. Should the home owner fail to adhere to these requirements the claim can be rejected on grounds of non-compliance of the policy requirements.
How can homeowners protect their home/assets from lightning damage?
Installing a lightning protection system whereby grounded rods assist to direct the lightning to the ground in the event of the home being struck by lightning.
Installing a UL-listed surge protector on electrical service panels.
Lightning conductors must be serviced by a reputable installer once every three years.
Undergrowth clearances to be maintained around structures for a minimum distance of 10 m.
A SABS approved fire retardant product must be applied to the main structures thatch roof.
Unplug all electrical devices/systems in event of storm or when the homeowner plans to go away.
Should the homeowner apply above points, financial losses suffered from lightning damage can then be voided or minimized all together.
Call Dorothy Roux to make sure your home owners policy is up to date and that you are correctly insured for such an event.
Article by:

Click on Image to see more details